Greece has announced its plan for opening the country to tourism in 2020, while protecting the safety of our communities and our guests.
https://www.ekathimerini.com/252875/article/ekathimerini/news/greece-says-no-coronavirus-tests-no-quarantine-for-tourists-this-summer
Greece has fared relatively well in its handling of the coronavirus pandemic. As of the 21st of May, the country has recorded 2,850 cases and 'only' 166 deaths (https://www.worldometers.info/coronavirus/country/greece/).
At the same time, its fragile economy needs the income from tourism, which accounts for about 25% of its GDP and almost 40% of employment.
In an effort to balance the situation, the government has announced that tourist establishments will be opening from the 15th of June. Guests will not be required to quarantine themselves, nor submit immunity certificates. However, tests will be performed at the Greek airports of arrival.
We are introducing COVID-19 disinfection to our rooms
In order to protect our guests, we have partnered with a specialist firm that will disinfect each room using a full fogging process (ULV cold fogger). This process will be carried out with a disinfectant approved by the National
Institute of Medicine (EOF Approval No.: 44435/7-7-2010), with chlorine dioxide as its main active ingredient. The chosen disinfectant is safe to use on all surfaces, it is non hazardous and non-toxic. This is the same solution suggested by the International Air Transport Association (IATA) for the COVID-19 disinfection of airplanes.
We will be sanitising our rooms before each and every check in, therefore we hope you will not mind us increasing our standard cleaning fee for your peace of mind.
Please keep in mind that disinfections are only one step of protection. Adhering to social distancing rules, washing your hands frequently and thoroughly, avoiding crowded places and monitoring yourself for symptoms remain the best tools at our disposal.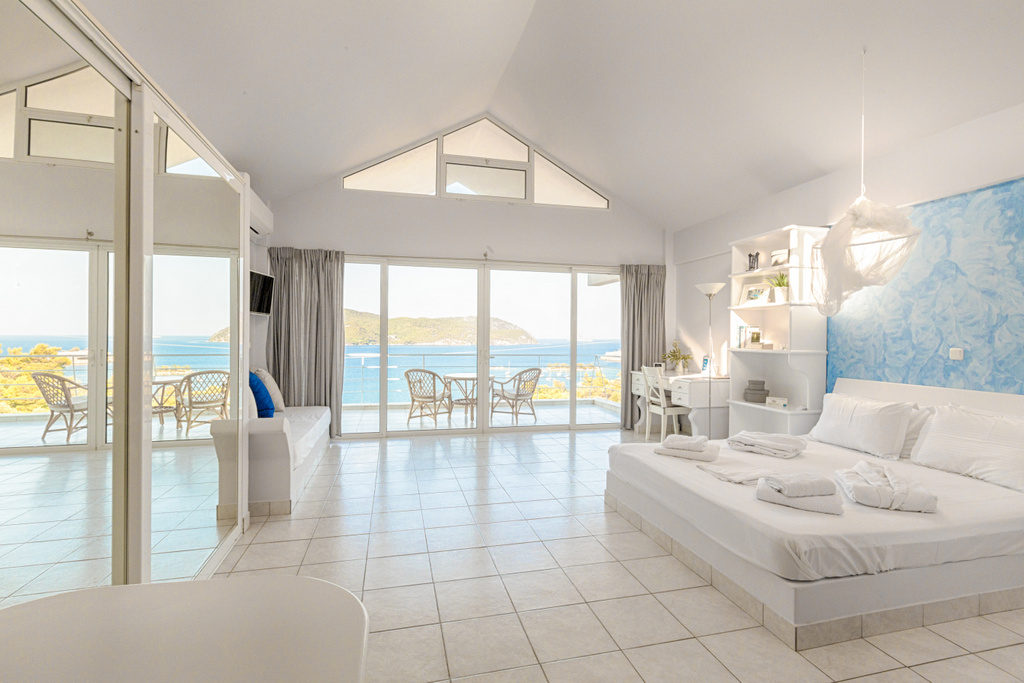 Travel the Live-Bio way
For all of you who have visited us before, you know that Live-Bio offers a unique holiday experience, vastly different to large hotels and organised resorts.
From inception, we wanted Live-Bio to be different. It is almost ironic how well our initial intentions align with the latest demands for responsible tourism:
We are located in a hectare of land (2.5 acres) and about 1 kilometer away from the towns of Galatas and of Poros Island, while we offer only 5 rooms for rental
All rooms have private entrances, private balconies and private bathrooms, ensuring social distancing for all guests
We never offered buffet breakfast, but instead the option for breakfast served to each room. Buffets are not our thing: the lavish ones are incredibly wasteful, the basic ones are terrible (toasted bread and cheese slices are a no no for us)
Our guests can visit us by travelling directly to the Athens International Airport, Greece's largest and most organised airport, and have the option to arrive in the safety of a car, without having to mingle with boat passengers (as is the case with most islands). Of course, one can still arrive by ferry, while adhering to the appropriate safety rules
We have arranged food delivery options from a number of restaurants in town, in case you want to dine privately at home. And all local restaurants follow strict social distancing rules
Enjoy summer in Greece with Live-Bio
Our world will never be the same. At the same time, it is in our hands to make this 'new' world become what we want it to be: cleaner, better, healthier, but also not distant and infused with fear. We all look forward to a summer break in the sun; we don't have to give it up if we apply prudence.
Greece is open for tourism this season and Live-Bio is waiting for you!