Just like many other countries Greece has been on a lockdown for the past few weeks due to the coronavirus pandemic. We did this particular hike in the beginning of March, when it was still feasible.
Since we started our little Sunday tradition – go on a hike somewhere new and explore our area – we were able to do 3 different hikes. We thought we would create a post about each hike here, on this blog, so you can use it on your next visit to our region, whenever that is. And once we are able to go out and explore again, we will continue with our tradition and share more of our hiking trail discoveries with you!
Winter, spring or autumn are the best times for hiking around Poros and its region with spring being the most beautiful. Everything is green, flowers in full bloom, birds chirping a happy song, sun is shining yet it is not too hot and there are very few people to bump into.
Where to start from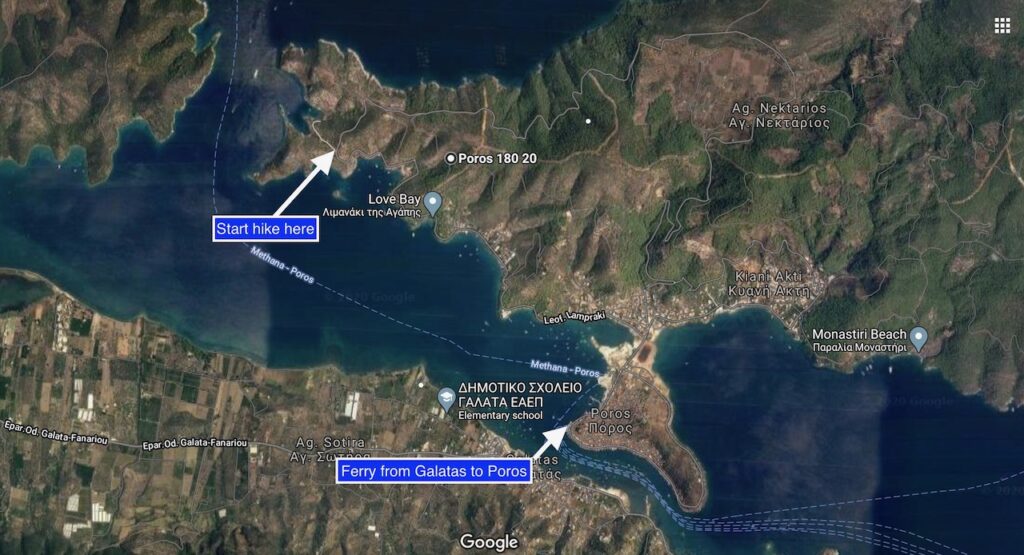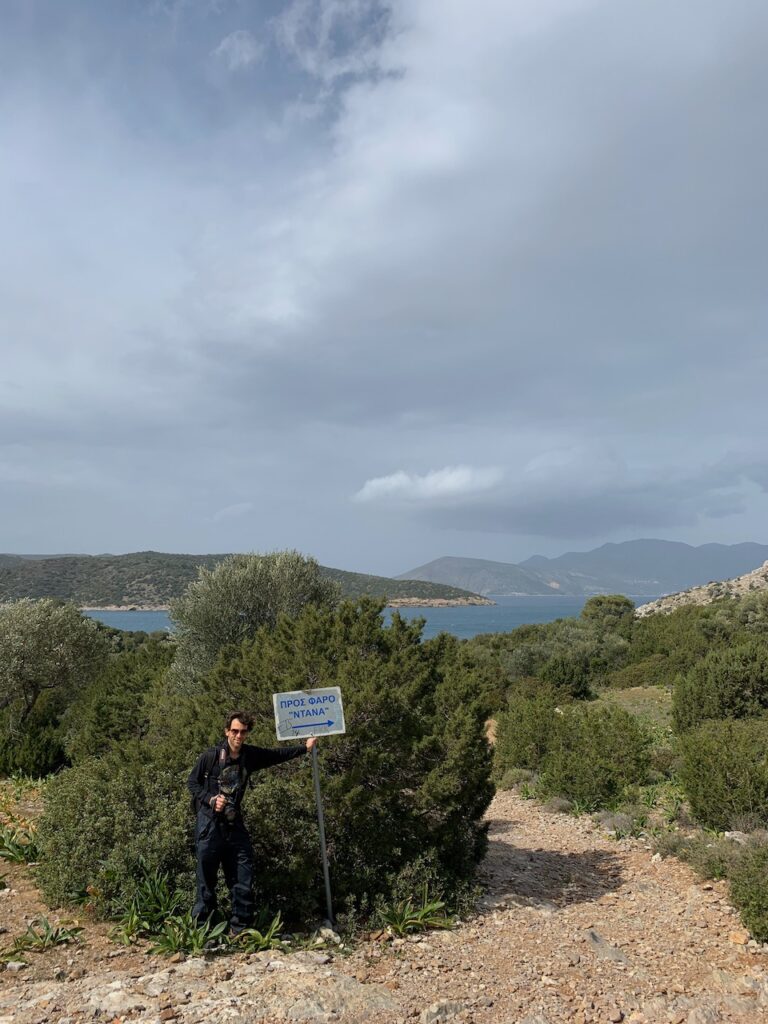 Our first hike was to the lighthouse of Poros island. To get to the starting point we took our car on a ferry across from Galatas. Ferries between Poros and Galatas go every 30 minutes – just enough time to grab a coffee at our favourite La Frianderie cafe right in front of the ferry stop. We drove to just after Russian Bay where the hiking trail starts and left the car on a side of the road.
Even though it was a warm, sunny day, the wind was pretty strong. We could feel it for the first half of the hike. As soon as we turned around a small peninsula, the wind died down and we could enjoy the beautiful weather even more.
The hiking trail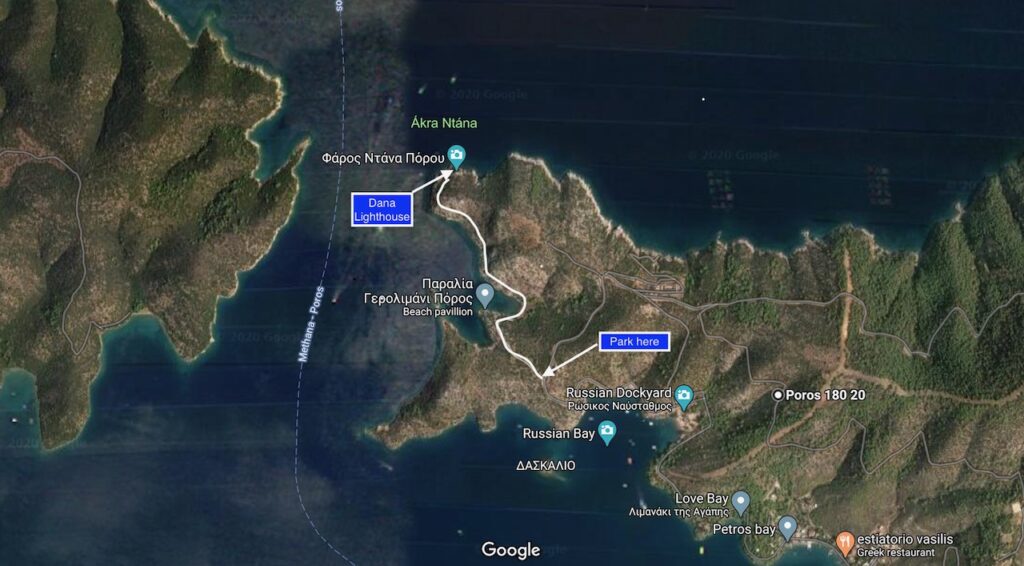 Unfortunately Google maps doesn't see the full trail hence our self drawn route to give you an idea how it looks like and where it goes exactly. It took us about 30-45 min to reach the lighthouse, although it was a leisurely walk with multiple photo shooting stops. We recommend you bring your swim suit along as you will be crossing through a secluded beach. This beach is usually empty or with just a few (well informed) visitors, even during busy summer time, making it a perfect spot for a refreshing dip in the sea.
The hiking path itself is pretty easy, however you need to be more careful as you approach the lighthouse as there are some sharp rocks and thorny plants.
A nice idea: bring some snacks and enjoy a little pic nick while admiring gorgeous views of Methana and the Aegean Sea.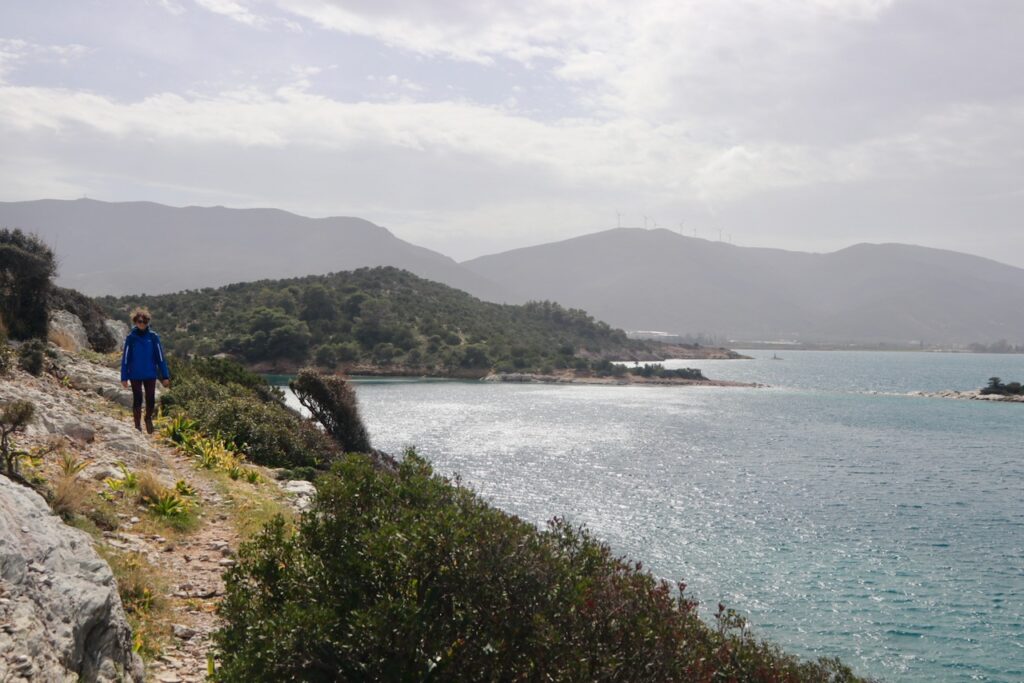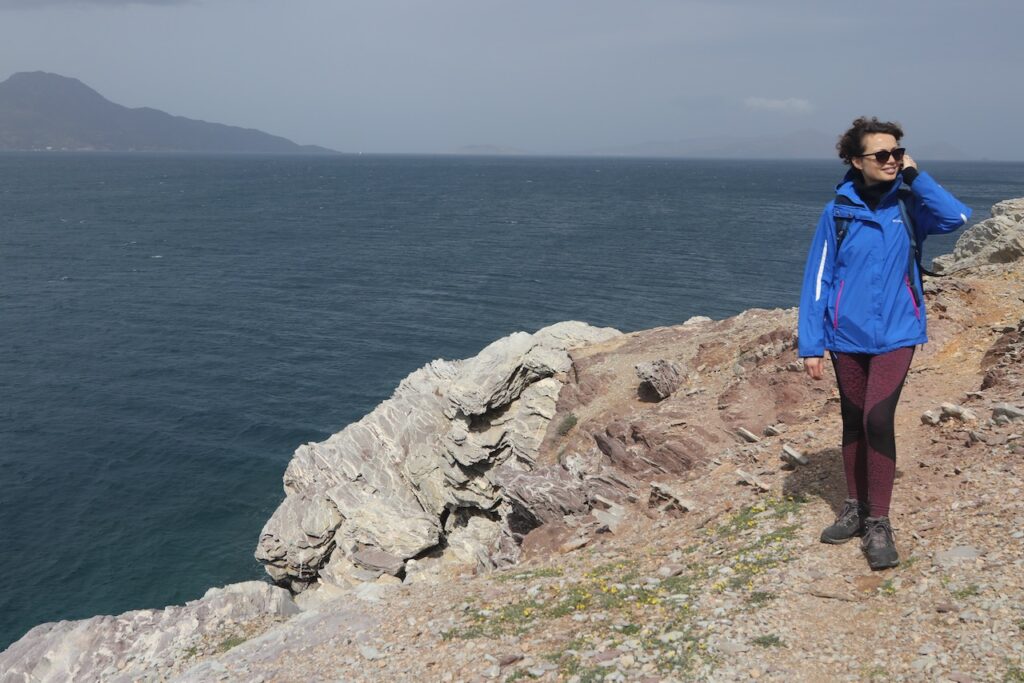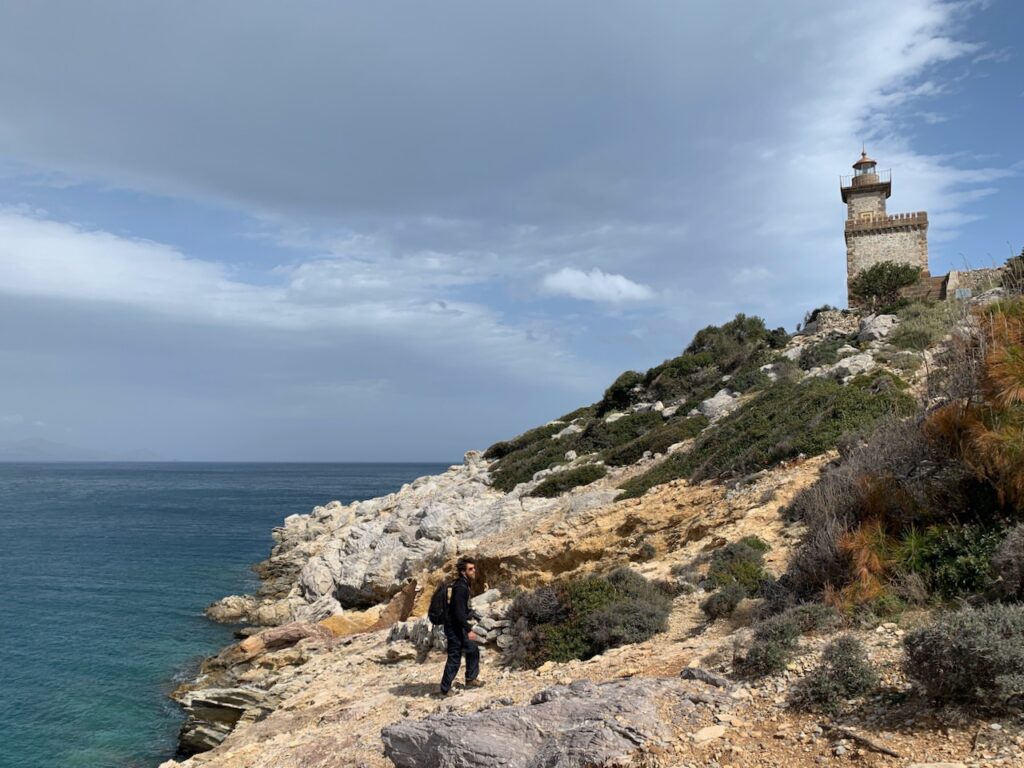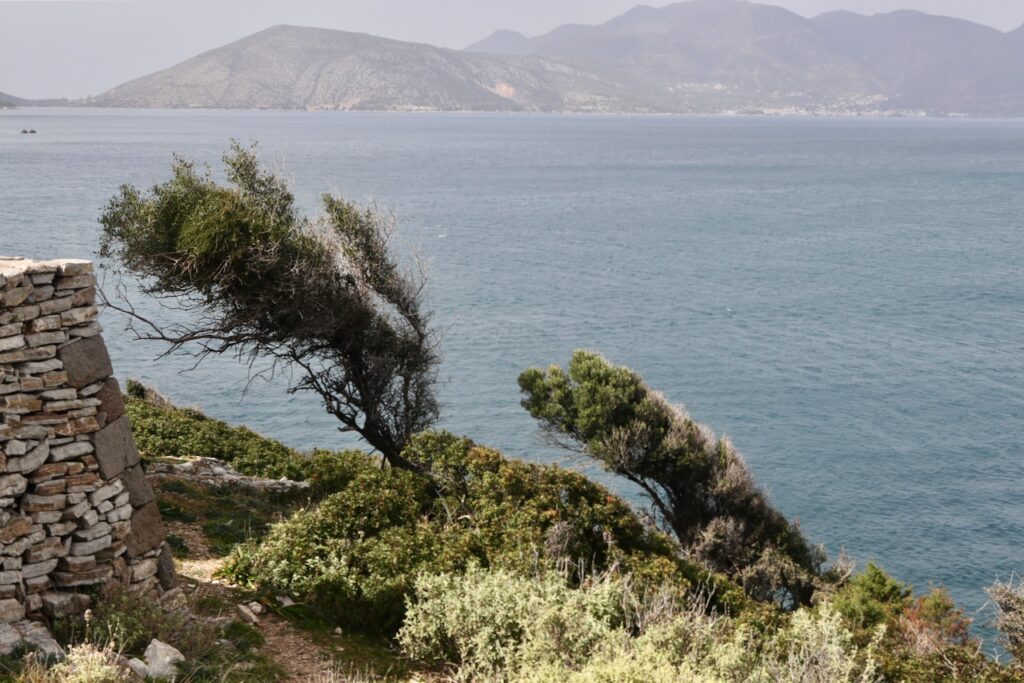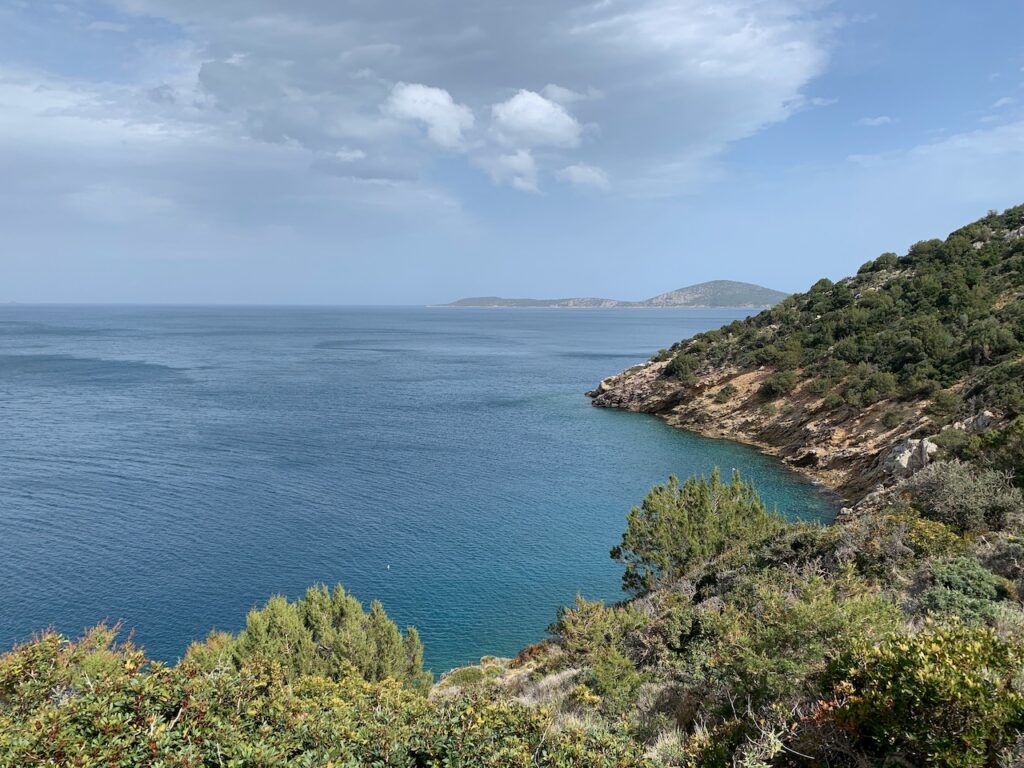 A bit of history
The lighthouse of Poros (called "Dana") was built in 1870 by the French Society of Ottoman Lighthouses. It is one of the prettiest stone built square lighthouses in Greece. It rises to 9 meters and its focal length reaches 32 meters. In 2011 the Laskaridis Foundation (founded by the wealthy Greek shipping family) decided to fund its complete restoration. Greece considers it a monument of modern maritime history while it remains fully operational.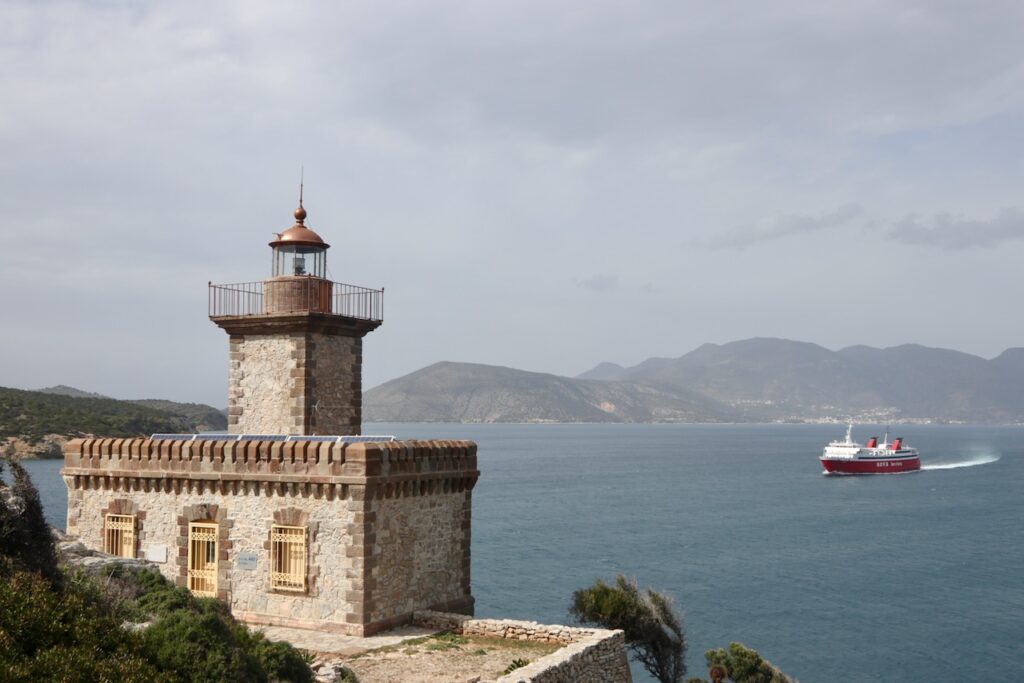 Poros hiking app
Through a concerted effort of an organisation called the "Paths of Greece", Poros municipality and the local community, there was a huge exercise of marking all the hike-able trails on Poros and its vicinity. It is a huge project requiring substantial funding. Some of the hiking trails have already been professionally researched and marked, but a lot of work is still required. Once completed, Poros and its surroundings will form part of their online app where all hiking routes will be easy to find and explore.

For the time being we hope to create our own little map with all the hikes we've done and share it with our guests. We will be also sharing each hike in a form of a blog post. We hope you find it useful on your next visit!

Next hike – Methana, Kameni Chora village down to the seaside. Stay tuned 🙂