If you are looking for the best coffee on Poros island then you should definitely try La Frianderie. It is our favourite coffee in the area, made with passion by Nikos Kakouris, the owner and main barista of this special place. Located on the harbour of Galatas overlooking Poros, La Frianderie offers great vistas of the island and excellent coffee.
I must confess… I think we have developed an addiction to Nikos' flat white and latte… Ah what the heck! One addiction is not going to kill us and this particular one is so worth it!
How did it all begin?
La Frianderie story started in the year 2000 when Nikos' dad, Tassos, opened the shop as a franchise. In the beginning everything was based on simplicity. Greek coffee with traditional Greek pies were offered to customers. In 2006 the franchise chain closed down, but la Frianderie continued its existence in the hands of father and son. Two years later came a big change, the shop went through major renovations and the focus shifted towards the art of coffee making. 20 year old Nikos started to get more involved in the everyday running of the cafe. Quality was his ultimate goal. He started attending various seminars for baristas (he still does) so that he could learn everything about coffee making. The more he learnt, the more he liked it and his passion for coffee grew bigger and bigger. The attention to detail and perfectionism can be seen in every single shot of espresso, tasty cappuccino, milky latte or, very popular in Greece, freddo cappuccino. Even long working hours do not discourage Nikos. His pursuit of perfection  and passion for the coffee world are hard to find in today's "fast everything" world.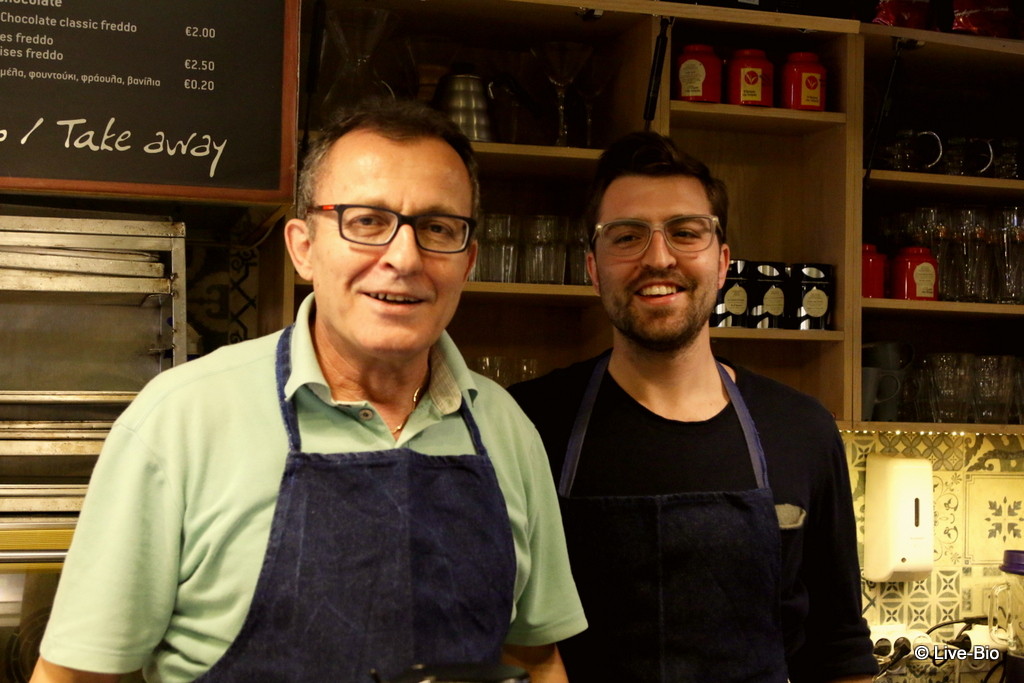 Secrets behind the best coffee on Poros island
So what is so special about la Frianderie's coffee? Well, quite a few things.
Roasting
Nikos roasts his coffee locally, with a preference for Italian style roast. He collaborates with Pioneer Espresso Company, based in Corinth (about 70 km from Poros), which also prides itself in excellence. Pioneer works only with coffee producers who cultivate their coffee according to the standards of UTZ. That means the company supports only environment friendly and sustainable coffee production. Pioneer's coffee is roasted individually, origin by origin, using Probat machine (a Rolls Royce in its league), guaranteeing the best possible quality of the beans.
Unique blend
Nikos has been working over past few years on customising the taste of his coffee to the local requirements. He discovered people from the area enjoy full bodied coffee so he decided to create a blend that would meet the expectation. He achieved it. His blend is made up of beans from 8 countries (Guatemala, Nicaragua, Costa Rica, Columbia, Brazil, Ethiopia, Kenya, India). It has a unique taste that the locals enjoy a lot. That is customer centricity at its best!
If you are, however, a fan of single variety coffee, it is of course available as well. La Frianderie uses 2 separate grinders assuring great quality of both, the blend as well as single variety.
Milk
If you are into cappuccino and latte, milk frothing is as much of an art as the espresso itself. A latte art on the rim of the cup is not only a sign of artistic tendencies but also a simple sign of well frothed milk – if the froth is not good, the latte art cannot be created. Nikos froths milks individually in small jugs (unless the place is super super busy, please excuse him for that!), making sure that you will get excellent consistency, micro-foam like cup and long-lasting texture. Mmmm…
Cold meats, sandwiches, pies and… fresh beer
But la Frianderie is not only coffee. Nikos and his team also serve delicious, freshly baked pastries (my favourite is a chocolate croissant, served still hot!), crispy baguettes with local veggies, cheeses and premium cold meats from the region of Drama (North East of Greece). With that you could drink a glass of freshly squeezed orange juice (from local oranges of course), home made lemonade or, if you feel like something stronger, you must not miss on the unfiltered, unpasteurised craft beer from the island of Corfu – Corfu Beer.
What do others say about the best coffee on Poros island?
Recently we had visitors from Poland, my brother and his wife came for a honeymoon to our beautiful area. They noticed something interesting: places like la Frianderie offer such great quality of produce because it is the owners themselves that make sure of that every single day. Yes, it is hard work, but when work happens to be your biggest passion as well, it makes it so much more pleasant and visible to the clientele.
Nikos says it's the positive feedback that he gets from his customers every day that keeps him going. Seeing a smile on people's face and getting a compliment for the coffee he makes with such devotion gives him the biggest motivation. He wants to keep growing and become even better. It is fascinating to see such energy and positive attitude, especially during the crisis time in Greece, from such a young person. Well done Nikos! Dream big!